WordPress Plugin Spotlight: Contact Form 7
It's another New Year, and with it comes extra business and an increased volume of visitors to your website. If you have a WordPress website, how can your potential customers contact you if they have any questions? This week, we're going to go over the very popular and useful plugin of Contact Form 7, and how you can best utilize it for your website.
What is Contact Form 7?
Contact Form 7 is an open source WordPress plugin that allows you to set up multiple contact forms on your website, complete with CAPTCHA and spam filtering options available if needed. It was developed by Takayuki Miyoshi, a man who likes to push the narrative of simple plugins that are lightweight and easy to use. Contact Form 7 is ahead of other contact form plugins in that it's always up to date with a strong community of support.
Let's have a look at Contact Form 7 features in more detail:
Contact Form Design
The most important aspect of this plugin is that it allows for complete customization of your contact form. By editing the form template on your contact form page you can add in required fields like name, other contact email and social media tabs. This plugin will enter the different syntaxes of tags and generate the fields for you.
In the screenshot below you can see the different preset forms and HTML snippets that come with them: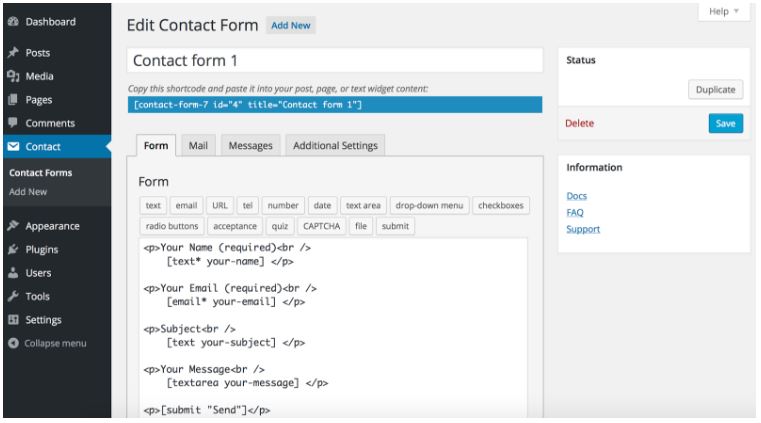 Mail Options
There are also additional options in the mail sending area on how to use it. Beyond the simple mail sender, you can set up the following:
Subscriber-only lists: This allows the option of only allowing those logged into your website as a user to be able to submit contact form requests. This could be useful for preventing spam and having a more accurate pool of contacts for membership websites.
Demo mode: If you only need to test your contact form without it actually submitting, this is a good option to use.
Flamingo: Editing your From and Subject fields can improve the look of your mail area, as well as indicate where your emails submit to.
Suppressing Message Storage: This is generally used with with mail editors such as Flamingo, and tells the system to not store messages through the contact form.
JavaScript Code: This is intended for more advanced users who prefer to implement custom JavaScript code into their mail form area.
Akismet
Akismet is a feature of the plugin that is used for spam control. This feature includes filtering that accepts the name, url or the address of the sender, and acts as a type of firewall against incoming unwarranted traffic. It will give the following error messages: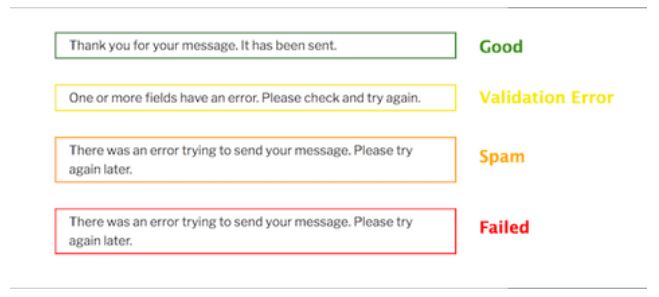 If any of the conditions are not met, Akismet will return the message. This is a validation check point for Akismet to protect your WordPress site from spam. To achieve this fully, it's recommended that all three of the filtering options are selected.

ReCAPTCHA
This is a feature of Contact Form 7 that makes use of a Google API integrated within the WordPress plugin. ReCAPTCHA is considered a form tag, which means that the options provided within this tag allows the plugin to modify the widget theme. This includes theme, color, ID, and class. ReCAPTCHA is a way of validating that the user inputting the data is in fact a human and not an automation attempting to connect to private information. What is new and unique about this feature is that it uses the encryption of a phrase to prevent bots from passing through the site.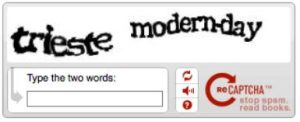 Using the 2 phrase validation is how ReCAPTCHA protects your site against the possibility of a DDOS attack. Another new feature of ReCAPTCHA is the use of images. The prompt will ask questions such as: "Select the Images with a sign". Users must then select these images in order to validate their information and progress on to the site. Below is an example of what could be considered a ReCAPTCHA prompt: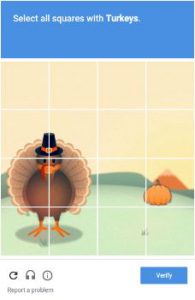 Initializing features such as Contact Form 7 can come in handy when designing a fully integrated and secure site. Watch this space for more WordPress plugin spotlights.