October 9, 2015
by Marketing Team
What Is Web Hosting?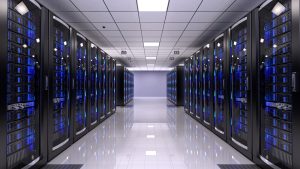 Your website begins with your web hosting. Read about how a web hosting provider gets your site up and running for the world to access.

The ins and outs of having a website can seem daunting at first. You might be overwhelmed by all kinds of acronyms like HTML, SEO and HTTP, yet all you want is for your customers to find your business online.
Here at WestHost, we take care of those tricky details that accompany having your own website. We get your site live so you can get back to managing your business.
So what exactly does a web hosting provider do?
A web hosting provider manages web servers, which are powerful computers that store websites. Once your site is hosted it can be accessed by anyone using the internet.
A website consists of a bunch of files written in code. All of these files are stored on a server, which can then be accessed by someone's browser (Chrome, Firefox, Safari, etc). When that someone types the website's domain name into the address bar, the browser pulls the files from the server and translates the code into the web page.
When you purchase web hosting, you choose a package that will best suit your needs. A package generally consists of storage space, bandwidth and processing power, along with other technical features.
In addition to housing websites, web hosting providers also:
Keep servers up to date with the latest software

Perform maintenance if a server goes down

Maintain data centers (buildings that house the servers)

Provide cyber security for their clients' websites

Work to provide clients with the latest hosting technologies
What are the different kinds of web hosting?
Web hosting providers offer different web hosting services to cater for different needs. The service you choose will depend entirely on the website(s) you have. Here is a brief description of each kind of hosting:
Shared Hosting
Unsurprisingly, shared hosting means that you share the server's resources with other people. This is perfect for those getting started or who don't require a large amount of resources. Smaller websites such as portfolios and blogs work great on a shared plan since they won't need near as much disk space or bandwidth as a larger site.
Cloud Hosting/VPS
Cloud hosting pulls resources from multiple servers, making it more reliable and more scalable than shared hosting. If your site gains popularity and gets a boost in traffic you can easily add resources and account for the growth. Medium-sized businesses and popular blogs are perfect for a cloud hosting environment.
Dedicated Hosting
Dedicated hosting is the king of all web hosting options. With dedicated hosting you're allocated all of a server's resources. This means you won't be sharing bandwidth or disk space with anyone, allowing you complete freedom to do what you want with your server. Dedicated hosting is perfect for large businesses and e-commerce websites.
Click here to read a more detailed description of each hosting type.
Reseller Hosting
WestHost also offers reseller hosting packages which allow you to start your own web hosting business. By using cloud hosting technology, we provide you with resources that you turn around and sell to your own clients. This way you can manage your own hosting company without having to purchase and house web servers.
Why WestHost?
WestHost has been hosting websites for over 15 years. We understand the ins and outs of web hosting and we always offer the latest technology to our clients. We know that your business is important to you so we strive to take the stress that can come with technical details off you, freeing you up to focus on growing your website. As an industry leader, we're here to serve you.
Get started today by visiting WestHost.com!
October 9, 2015
by Marketing Team