November 2, 2011
by Marketing Team
Blogging Tips for Beginners: Part 3 | Intro to Shared Web Hosting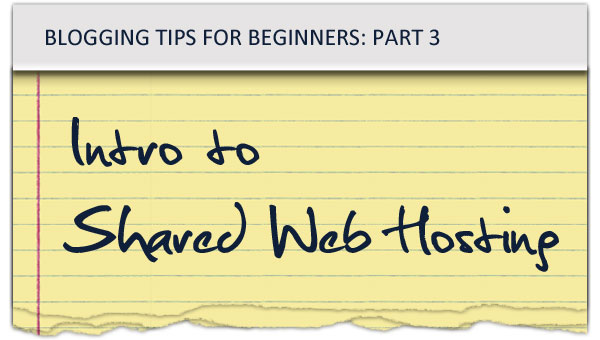 Now that you've registered your domain name and have a web hosting company in mind, selecting the right type of web hosting for your domain is up next. There are multiple types of hosting, but for beginning bloggers shared web hosting is recommended:

Shared hosting is the most popular type of web hosting and most cost efficient. If you remember, in part two of this series we compared shared hosting to an apartment complex; several people share a structure but live in separate areas at an affordable price rather than owning the entire complex. Likewise, you share space on a server with others.
Shared hosting offers scalability. WestHost has multiple web hosting packages with a variety of bandwidth and disk space. For starters, you may want to kick-off with the minimum personal hosting package. However, the great thing about shared hosting with WestHost is the ability to upgrade your package for additional bandwidth and disk space whenever your blog grows.
Shared hosting is simple. For a beginning blogger, it is easiest to use a company like WestHost to maintain the server and hardware in their data center for you. WestHost has the know-how and manpower to run a server so you don't need to learn any unique information about server administration.
The Benefits
In a basic shared hosting plan, your blog has a home on one of the host's many servers. It has a certain amount of space, memory, processing power, and bandwidth allotted to it. Your viewers can access your site from that server in the same way they fill up their car with gas—they establish a link with the server (pump) and start "pumping" data (gas) to their browser (car). Unlike a gas station, however, a server can handle many more connections at a time. Instead of viewers "driving up to the pump", the hoses will flit about between cars on their own, filling each car up a little at a time. If 30+ viewers access your blog at once, a server can simultaneously handle your site and attend to others on the server without interruption.
Of course you may be thinking, "Why does this matter to me"? Well, if your blog posts have only text and a few images, it will easily fit within the bounds of a personal hosting plan, even when multiple viewers access the site at once. However, if you start adding large images or even video, your site may struggle or even go down when a lot of viewers try to access the site at the same time. A garden hose may be adequate to put out a small weed fire, but you will probably need a fire hose for a brush fire or a water-toting helicopter for a forest fire. Having your site go down regularly because of overextended resources is bad for your pocketbook—you'll want to pick a web hosting plan with a lot of bandwidth up front and prepare to upgrade when you need more.
On the simpler side, your web hosting plan gives you a limit in storage space. When it comes to anticipating your storage needs know that text is usually pretty cheap on space, images and music can take a lot more, and video takes quite a bit of space. Think ahead—what do you want your blog to look like a year from now? Plan your space for that future vision and select your package. Along the way, you can upgrade your account to get greater space as your blog becomes more popular.
How to Get Going
Now it is time to get your blog started. Luckily for you, creating a blog is simpler than ever before. You do not need to be an expert in HTML, CSS, Java, or other web languages—you simply need to get the right software for the job. The vast majority of bloggers choose the software and publishing platform WordPress. WordPress is a popular choice because it is completely customizable and easy to manage. To make things even simpler, WestHost has the "Softaculous" application installer that enables you to install apps on your blog with only one click. Softaculous is a fast auto-installer that can do the heavy lifting of installing applications to your web hosting account with one simple click. With this feature, it's easy to make a blog that is interactive and interesting to your readers, and you'll have your blog up in no time.
Even if you don't intend to use applications today, having them available could be important in the long run. You may be using your blog for potential affiliate marketing campaigns (promoting a product or service on your site and getting commission on any sales), but you may realize later that you want to start using Google AdWords to advertise and drive traffic. In the event you decide to change certain things about your blog, you need that level of flexibility and having special features and applications is necessary.
Keeping it Running
Because shared hosting is practically hands-off for you and WestHost deals with server maintenance, you are free to begin blogging. Among the many perks of choosing a web host like WestHost is the 24/7 customer support so that, in the likely event you have questions, you can get immediate assistance. And one of the best things about a service like WestHost is the "uptime"—your viewers will be able to access your blog over 99% of the time. Now that's availability!
November 2, 2011
by Marketing Team