October 25, 2011
by Marketing Team
Blogging Tips for Beginners: Part 2 | Domain Name Hosting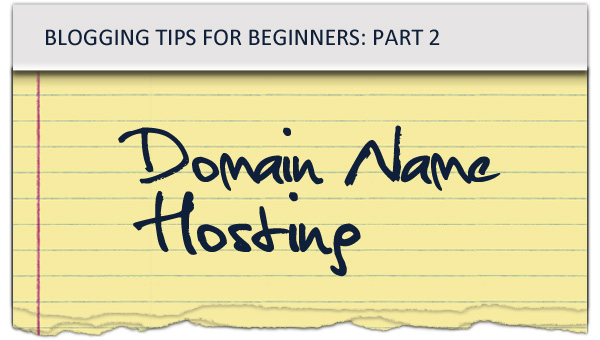 Once you have registered your domain name and before you begin blogging, you are going to need a place to post. Enter web hosting.

What is Web Hosting?
The majority of people who create a website or blog underestimate the importance of domain name hosting, but they shouldn't. Web hosting is a service that gives the space necessary to make your blog accessible on the Internet.
Web hosting is a lot like a storage unit. With a storage unit, you rent the space from a company that keeps your possessions secure. Similarly, a web host is an online storage unit—a safe and secure place to keep your website files.

Why Web Hosting is Important
Whatever your big blog idea, a reliable web hosting solution is vital. If your blog crashes or you have technical problems due to poor web hosting, building an audience and traffic for your blog will be difficult. In fact, you can expect any service interruptions that make your blog inaccessible will take a toll on traffic to your blog. The right web hosting solution makes your blog easy to download, update and browse. A web host is necessary because it offers guaranteed uptime and reliability. WestHost guarantees 99.9% uptime so your blog remains up and running constantly.
Things to Look for in a Web Host
When it comes to selecting the winning web hosting service for your blog, there are aspects of domain name hosting you should consider. Some important features and options to look out for include:
Bandwidth and Disk Space: A beginning blogger needs to guesstimate how much space and data his website will generate. Disk space is the amount of storage you get and bandwidth is the amount of traffic. For example, if you anticipate using a lot of graphics and images you will need bigger storage and bandwidth. If you're just starting your blog you likely use less than 1GB of disk space and 5GB of bandwidth which is well below our limits on the personal hosting plan.
Blog Utility: Blogging software is designed to make the creation and maintenance of blogs easier. WestHost supports the most popular blog applications so you can utilize these special functions (i.e. managing blog comments, updating the look, inserting media). Better yet, WestHost uses a special utility called 'Softaculous' for the power of one-click installations. This auto installer is fast and installs all the applications you want in just one step. This feature also allows you to keep your blog up-to-date.
Price: Like mentioned before, WestHost offers personal hosting that is excellent for starters. The basic personal hosting package is only $4/month and is a good launching point for your first blog. The exact web hosting price will vary depending on the hosting package you need.
Flexibility: WestHost allows you to upgrade your account whenever you see fit. The right host for your blog will have this option to upgrade your plan to continually meet your needs when necessary.
Technical Support: Support can be super important down the road for starting your blog, installing applications or updating your blog. WestHost offers live chat along with a toll-free number for around-the-clock support. This type of 24/7 support is critical for handling your questions and concerns.
What Type of Web Hosting Does Your Blog Need?
Once you have purchased a domain name and determined your hosting needs, you are ready to host your website. There are at least four different types of web hosting, but for beginning bloggers, shared web hosting is exactly what you need.
Shared Hosting is the most popular type of web hosting and is a place for sites to reside on a server together so hosting is more affordable. Consider the concept of shared hosting like an apartment complex; people share the building but live in separate spaces at a cheaper price than owning the entire structure. Shared hosting provides the right amount of storage and bandwidth while you're getting started. Luckily, creating a blog has become so popular that WestHost has created numerous hosting packages that cater to the needs of a growing blogger.
Get Going!
Don't allow yourself to get overwhelmed with the technicalities of web hosting. Web hosting services, like those at WestHost, offer a simple solution. Find a package that is tailored to your anticipated needs, and you're ready to let the blogging begin. Next week, we will elaborate on the advantages of shared hosting to give you a better grasp on how it benefits bloggers.
October 25, 2011
by Marketing Team