October 14, 2011
by Marketing Team
Blogging Tips for Beginners: Part 1 | Domain Name Registration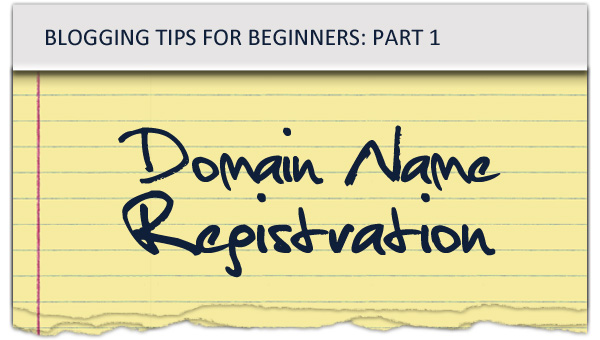 Taking your first step into the blogosphere is easy, but there are things to consider before you become a big blogger.
If you have a brilliant blog theme and are ready for readers, your first priority is to secure your own personal website by choosing a domain name and registering it.

Why do I need to register a domain name?

If you want to take blogging seriously, there are two main paths to take when it comes to registering a domain name:
Free Services allow you to host your site off another site using a subdomain (e.g. blogspot.com). Using these types of services can be convenient but they tend to limit features and enforce certain restrictions.
Professional Domain Registration is more beneficial in the long run. A registrar helps you manage your domain name and information as well as offers a variety of helpful services. WestHost provides additional advantages like directing where your domain points, securing several domain name registrations like misspellings, creating an email account for the domain and helping you maintain control of it.
Choosing the right domain name
Before you register your domain name, put considerable thought into selecting the right one. There are definitely dos and don'ts when it comes to the perfect domain name registration and we intend to help you strike gold with these suggestions:
Go for the obvious. Keep your domain name simple, straightforward, and relevant to purpose of your blog; this helps your audience recognize and remember you.
Keep it focused. Generic domain names (e.g. Pianos.com) are nearly all unavailable. Your best bet is to select a domain name that targets your idea more specifically (e.g. UsedPianos.com).
Hide from hyphens. Using a hyphen in your domain name is not recommended. More often than not, people forget to include a hyphen in a domain name, leading your audience to the wrong blog.
Beware of the length. Shorter domain names are more memorable, but not as readily available. On the other hand, longer domain names are not as easy to remember but can contain more keywords that boost your domain name's ability to be seen in a search engine like Google or Yahoo.
We love talking about selecting domains so if you still can't decide check out a few more suggestions here.
Selecting a domain registrar
If you have found the perfect domain name for your blog, the next step is actually registering the name with a domain registrar. Just like any purchase you always want to find a company with credibility. Over the last decade WestHost has created a global reputation for itself as a trusted domain name registrar.
In addition to credibility, price is also one of the most important things to consider with domain name registration. A lot of companies tend to be pricier for little or no reason. With WestHost you can register your domain name for as little as $9/year.
What do I need to have to register a domain?
When you have your domain name and registrar selected, the actual domain name registration process is easy. You should be prepared to provide contact information during the registration process. The required personal contact information will include your name, physical address, phone number and email address.
This information is required by the governing body of domains called the ICANN. Your information is filed into a public online directory, called WHOIS, so others can check the availability of domain names; unfortunately, this includes spammers. In the event you would like your information to remain private, registrars provide domain privacy.
Domain privacy protects your personal information and replaces it with the registrar's information so you can rest easy. Better yet, domain privacy is cost friendly. WestHost provides this luxury for an additional $5/year. Right at the beginning of our registration process, WestHost asks you upfront if you would like domain privacy.
How long should I register the domain?
Once you have selected a registrar you need to determine how long you would like to own the domain name.
The time period of possession is a personal preference. The domain duration can be for one year or up to ten years. If you decide to play it on the safe side and purchase the domain for only a year, you will always have the opportunity to renew the domain for an extended period of time.
What's next?
All in all, registering a domain name is a speedy process that only takes a few minutes to complete. After registering, you can expect about 24-48 hours until the domain becomes active. Once you are registered, you aren't quite set-up to begin blogging. At this point, you should then turn your focus toward web hosting. At first this may sound daunting, but it will not be difficult. Next week, we will outline the ins and outs of web hosting so you can be ready to roll.
October 14, 2011
by Marketing Team