Introducing the New Westhost Website Builder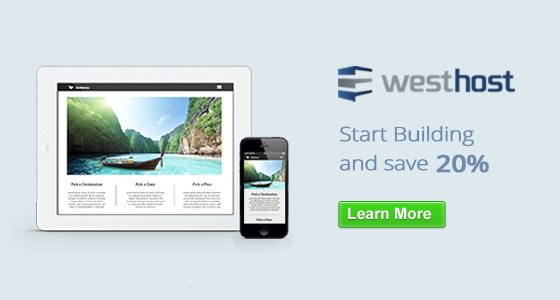 Today is a momentous day, our new website builder is ready and available! We have never provided a more clear-cut way to build your own website and now building a professional website by yourself is not only a possibility, but a reality.
In the past website builders produced websites that lacked features, customization, and had templates that looked so bad it was easy to distinguish which websites were created by a website builder and which were created by a professional web designer. Good luck trying to tell a difference is now!
Using the new WestHost Website Builder, your site will look so amazing, no one will be able to tell the difference between the site you created and that of a professional web designer; think of something else to do with the thousands of dollars you set aside to pay a web design professional.

The look and feel of your website is all up to you and only a few clicks away. If you want some direction on how to get started, we provide hundreds of professionally designed templates sp all you need to do is drag, drop, and let the magic begin. It's that simple.
Learning a coding language like PHP, HTML, or ASP isn't necessary. Simple to use, yet advanced results; that's the goal we achieved with the website builder.
From start to finish, your website will be up quickly, easily, and by yourself. The website builder comes packaged with a free domain name and hosting. To top it off, we are currently offering 20% off of any Website Builder package; giving you all you need to flourish online. If you don't have a website or you dumped loads of money into building your website years ago now is the prime time to take advantage of this offer. You deserve to have a professional website to fit your business. It's quick, it's easy, and it's never been so affordable!