eCommerce Web Hosting Guide
What do Circuit City, Hollywood Video, and Borders have in common? All of them lost their market share to direct competitors that successfully employed an online storefront, or eCommerce: Best Buy, Blockbuster, and Barnes & Noble. Clearly, the capability to sell your product online is essential. It lowers your overhead costs and provides greater convenience for your customer.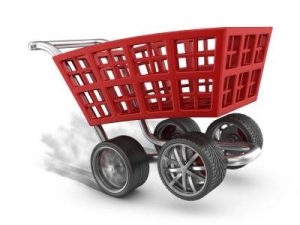 Regardless of how small your business may be or what your product or service your business offers, taking advantage of the Internet and eCommerce can help your business grow and increase profit. However, eCommerce is highly competitive and there are plenty of businesses that flounder instead of flourish because they disregard the fundamental building blocks of creating and maintaining an eCommerce website. So before you build your online storefront take careful consideration of the essential elements of eCommerce:
Make a name for yourself. The right domain name gives your business an identity that is easy to remember and stands out in a competitive crowd.
Find the right host. Location is everything for a brick-and-mortar store and likewise an online storefront needs a reputable Web host to house the site for success.
Be attractive. The design for your website needs to be easy to navigate for customers. There are some basic guidelines that can make your site both easy on the eyes and easy to use.
Showcase trust. Customers will only provide private information including credit card information and phone numbers when a site is secure and appears legitimate. Make sure your site is secure and customers feel comfortable.
Make payment as easy as possible. It is best to provide customers with a variety of payment methods including accepting credit cards, debit cards, and utilizing PayPal. Be sure you have the reliability and ability to process each payment.
Covering your bases with eCommerce is far too important to skip any steps. This guide is a simple outline that will give your business the basics necessary to make it big.

Step One: Selecting and Registering a Domain Name
A domain name is a completely unique online identity that tells customers who you are and how to find you. Selecting a domain name, or URL, for your site is crucial. Domain names often reinforce the name of your company, product, or service and can also become your business email address. A lot rides on having the right web address, so consider these suggestions before you pick the perfect domain name:
Make it unforgettable. Choose a domain name that will help customers recognize and remember you. Using the name of your business, product, or service is a good idea.
Be descriptive. Select a domain name that targets your business specifically. For example, a domain name like "Pianos.com" is a simple way to describe your business.
Watch the length. Shorter domain names are easier to remember and type. Avoid complicated words, spelling, special characters or long phrases. Keeping your domain name simple makes it as easy as possible for people to find your site.
Once you settle on a domain name, you have to check to see if it is available with a domain name company. There are a number of domain name companies, or registrars, which can assist you in getting the name you want. Be sure to choose a company with credibility. If the name is available, you have to register the domain name with the registrar.
Registering a domain name is easy and inexpensive. The actual registration process can be painless and can take maybe ten minutes of your time. Be prepared to provide some personal information like your name, address, and phone number so the company can add you to the public domain registry that tracks domain name availability. Once you provide this information you will also need to decide how long you would like to own the domain for, keep in mind you can extend the domain duration for up to ten years.
Step Two: Plan the Structure of Your Site
Once you have chosen your domain name and have it registered, you need to build a user-friendly site that invites customers to come to your site, stay, and make a purchase. A lot of people use professional web design teams to create their website. In the event hiring help is not in your budget, there are self-service website building tools that don't require extensive HTML knowledge. The most popular content management system is WordPress. WordPress is a renowned system that allows the average person to build a site and is a good starting point.
Keep in mind that each page on your site should focus on helping a customer learn what they need to know and how to buy your product or service quickly. The following tips can help you optimize your site:
Do some research. Check out what your competitors look like and make adaptations.
First impressions are lasting. Customers want easy access to company information. Make sure your site easily presents your company name, logo, contact information, an "about the company" statement, and any business policies.
Simplify your site. When you build your site, minimize how many clicks it will take to make an actual purchase. As a rule of thumb, four to six clicks are average.
Keep it clean. Try to avoid cluttering your site with unnecessary graphics, animations and images. Only use these visual elements when they enhance your marketing goals.
After you have completed step two, you are near ready to put your site on the Internet.
Step Three: Select a Web Host
Web hosting is a service that gives you the space necessary on a web server to make your site accessible to customers. It is similar to an online storage unit, where you rent space on a server (from a web hosting company) to keep your website files safe and secure. A web hosting company connects your site to a web browser and Internet connection, offers customer support, and has eCommerce features. Some businesses may prefer to have control over the purchase, set up, and maintenance of a web server. However, most small- to medium-sized businesses turn to a web hosting company rather than investing in the hardware, software, and necessary expertise to keep a site up and running. In order to select the right web hosting company consider:
Web hosting packages. There are several different types of web hosting. A credible web host will offer a variety of hosting options to cater to your needs. For example, shared hosting is an affordable and popular type of web hosting that allows several sites to reside on the same server. If you anticipate having a larger and busier site, dedicated hosting is a private and personal server that is only for your site. Do a little research to figure out what type of web hosting your eCommerce site will require.
Storage space. A good web hosting company will have the ability to accommodate to your website storage needs. As your business grows, you will want the freedom to get more storage space if necessary. Can the web hosting service meet the needs of your technical requirements? Does the web hosting service have the ability to adapt to your growth?
Uptime. With an eCommerce site, you will want your site to be available 24 hours a day. Server outages will cause havoc for your business and the opportunity cost of server outages can be staggering. Clearly, constant availability of your website is critical—your customers may not come back if they happen upon your site when it is down. A web host should guarantee 99% uptime and availability. What is the guaranteed uptime offered by the web host provider?
Technical support. One of the main advantages of utilizing a web host is customer and technical support. Having technical support means your questions and concerns can be handled without stress and you can focus on your business. What kind of customer support does the web host offer?
In the age of eCommerce there are additional things to consider with a web host like the features they may provide. Web host providers should offer an eCommerce shopping cart, merchant account to process payment information, and SSL security to protect payments.
Step Four: Start Selling
With an online identity, intriguing and professional online storefront, and a credible web host, you have a solid foundation for an eCommerce site. These basics get you on your feet, and you can start promoting and marketing your site to the public.
Whatever your product or service, eCommerce helps level the playing field against bigger companies. Take advantage of the enormous opportunity eCommerce presents and grab market share!